The Hall of Fame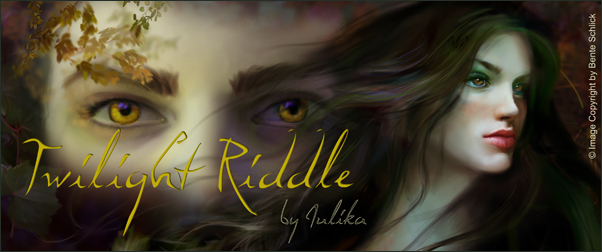 The following is a list of awesomeness. It alphabetically lists people who have completed the Twilight Riddle, successfully solved the final final final task and sent me the right answer. They may officially carry the title "Twilight Riddler". If I had a way, I would give you all a free shirt. As it stands I can only do this.
~ Updated 12. December 2011: 1160 entries ~
Eternal bragging rights are proudly granted to:

Abigail Modelowitz; Adriana Payares; Adrielle Soong; Afton Siebern; Agnes; Ailbhe Redmond; Aileen Solis; Aimee H. (aka ajhuff01); Aisling Prendergast; Aislinn (aka KappaGorgeous); akbarrelracer; Alana Bryan; Alannah Jeanes; Aleksandra Filipovic; Alex B.; Alex D.; Alex Frederick; Alexa Carlie Cruz; Alexandra Allen; Alexandra Goldrick; Alexandra M.; Alexandra Wu; Alexandria Eye; Alexces Megan Abarquez; Alexia H.; Alexis K.; Alexis S.; Alice G.; Alice L. (aka SeeMyEvil); Alicia Douglas; Alicia Hicks; Alicia L.; Alicia McDonad; Alida Fowler; Alielle; Alison Murfitt; Alix Glynn; Aliyah Veltz; Allie Shammond; Allison D. (aka malikity) and Diana M. (aka hellbuny); Allison Owens; Aloree Amodt; Alysha (aka LyshaBelle); Alyssa; Alyssa Chazey; Alyssa D.; Alyssa Dickey; Alyssa G.; Alyssa Marie Olalia; Alyssa Mathews; Alyssa Menickelly; Alyssa Morshead; Alyssa V.; Alyssa W.; Alysson Rie; Alyxandra Bryndzia; Amanda A.; Amanda B.; Amanda C.; Amanda Campbell; Amanda Cardenas; Amanda Cu.; Amanda Garcia; Amanda Klaus; Amanda Loader; Amanda M.; Amanda Moscicki; Amanda Nelson; Amanda Ollerton; Amanda Poindexter; Amanda R.; Amanda S. (aka ags8402); Amanda S.; Amanda Taylor; Amanda Walker; Amanda Weatherby; Amanda Welsh; Amber Bertrand; Amber Joe; Amber Lemmons; Amber Lindros; Amie D.; Amy Ashton; Amy Dalton; Amy Dye; Amy E. Rich; Amy H.; Amy Hayes; Amy Jenks; Amy Larsen; Amy Mal; Amy Miller (aka Amers); Amy Molitor; Amy Thompson; Ana Duarte; Ana P.; Ana R.; Anastasia S.; Andrea Adams; Andrea Sergi; Aneta Adamska; Angel Lee; Angela K. (aka Little Imp); Angela; Angelbethy; Angelia Gonzales; Angeline Cheryl; Angeline G.; Angie Henry; Anita Czeroczki; Anja Glatz; Anja Matthies; Ann Rosene Lapinid; Anna Bridie Helen Lewis; Anna Grant; Anna Ericsson; Anna K. (aka Bubbles) Anna Kramer; Anna Liza Razon; Anna Mueller; Anna; Anna-Lena K.; Anne Grosse; Anne Szczubelek; April Greene; April Hahn; April P.; April Pettey; April Rose Decapia; Ariana Mansilla; Arie Octaviani; Arielle K.; Armanda I.; Ashish P.; Ashley B.; Ashley Case; Ashley Forster; Ashley Green; Ashley Havens; Ashley M. (aka partofthepack); Ashley Morgan; Ashley O'Sullivan; Ashley Ramirez; Ashley Ribbel; Ashley Simpkins; Ashley Y.; Astraea V. (aka starbluluv); Athobois; Ayatt H.;
Bailey D. (aka btvssugarwater); Bailey Johnson; Baranda H.; Barbara Martin; Becky Norman; Belkys Constantine; Bella Cullen; Belle M.; Belle Miller; Berlinde von Kemp; Beth Cope; Beth Dunstan; Beth Fessler; Beth Minniear; Bethany B.; Bethany Ehrman; Bethany Hart; Bethany R. Vigil; Bethany Turner; Bevlynn Moser; Bianca Rack; Blessie Faustino; Bonnie Brooks; Brandy K.; Brandy Niemeyer; Brian Ellis; Brianna; Brittaney K.; Brittany Cofield; Brittany Morgan; Brittany Ross; Brittany Wathen; Brittany Woods; Brittany/Dakota Moree; Brittney Keegan; Brooke W. (aka ladiebumbles); Bruna Silva; Bryan Lassiter; Brynn Cutcliffe;
Cac; Cactus Ortiz; Caitlin P. (aka CaitlinWithAC); Caitlin Wilson; Calista Anne W. (aka Maconharpist); Cam Holbrook; Candi Stephenson; Candice Cassandra Gomez; Candice Fudalan; Candyce Di'Onne Watson; Cara H.; Caren Arantes; Caren Barge; Carla Aquino; Carla Campao; Carla Wadle; Carly; Carly M.; Carly Phelan; Carly Wicks; Carmen Purvis; Carolina Arevalo; Carolina Gonzalez; Caroline Pringle; Carolyn Phin; Carson Hutto; Casey; Casey Goodenbery; Cassandra "Casey" Emery; Cassandra Braekevelt; Cassandra Carosello; Cassandra D.; Catchx22 and Tess; Cate; Catherine Dubuc; Cathlea Zapka; Catieola C.; Cayla Ritter; Cecilia Gonzalez; Cecilia Jimenez; Celeste Bowman; Celeste; Cerah Deschenes; Chantal T.; Chantelle B.; Charlene (aka Jacob's Girl) Charmaine Matienzo; Chelsea Appel; Chelsea W. (aka daydreaming); Cherokee Wagner; Cheryl Petersen; Chira D.; Chloe E.; Chloe G.; Chloe H.; chq_84; Chris O.; Chrissy Antoniotti; Chrissy Davenport; Chrissy Fleishman; Chrissy Swagerty; Christa Carter; Christa Garbarini; Christelle Deniece T. Gaceta; Christin Herbst; Christina (aka ninaberry); Christina Appleton; Christina Brown; Christina Chan; Christina Crowley; Christina Gagne; Christina Haas; Christina P.; Christina T. (aka dangermagnet91); Christina Wright; Christina Young; Christine Frick; Christine Kypis; Christine Teo; Chrystal Unruh; Cindy Carravetta; Cindy Leslie; Cindy Stout; Claire H.; Claude-Helene Normandin; Claudia Alvarez; Claudia W.; Colleen P.; Connie Sharpe; Constantina Rokos; Corey W.; Corinne Y.; Corrinn; Courtney Borders; Courtney Smith; Crystal Acosta; Crystal MacMillan; Crystal Miculob; Cyndi Montgomery; Cynthia G. (aka rattlergrl);
Daiana Indaburu; Daina; Dainsie; Daisy L.; Dakota Apsey-Vaughn; Dakota K. (aka Cody Rae); Dana LeCroy; Dana L. Young; Danica Loewen; Daniela Grubert and Kiki; Daniela Kutzner; Danielle Brinckman; Danielle Fuller; Danielle Gilliver; Danielle Halteman; Danielle L. W.; Danielle M.; Danielle Miller; Danielle P.; Danielle Pugliese; Danielle S.; Daryl A. (aka WiW); David Wayman; Dawn Geiser; Dawn Lewis; Dawn; Deb S.; Debbi B. (aka Debrika); Deborah Pires; Debra Marcus; Dee L.; Delfina Lynch; Denise; Devon Hernandez; Diana Han; Diana Han; Diana Valverde; Diane Chiang; Donna Stevens; Dorry K.; Dyana B.;
Edeline A. Alonzo; Elaine Wong; Elena C.; Elena C.; Elizabeth (aka ejs); Elizabeth Campbell; Elizabeth Cordova; Elizabeth Levine; Elizabeth Lopez; Elizabeth Milstred; Elizabeth Schwanke; Elizabeth Walter; Elizabeth Waring; Elli N.; Ellie Aldersey-Williams; Elvina C.; Elysia M.; Emily Alderson; Emily Berkey; Emily Cowan; Emily E.; Emily Landry; Emily Paterson; Emily Pruitt; Emily Reed; Emily Schroeder; Emily Sheppard; Emily Soludczyk; Emily Stella; Emily Theresa Anderson; Emina Zanacic; Emma Bridges; Emma Frearson; Emma Hardisty; Emma Jenks; Emma Mathes; Emma Peterson; Emma Pink; Ericha Hayes Capeding; Erika Hung; Erika M.; Erin Bjorn; Erin Lee; Erin M. (aka brokenhallelujah); Erin Peterson; Erin Sannes; Erin T.; Erin Wylie; Errin Van Rensburg; Eshani Way; Evonne BB; Eyuri Melissa H. Valenzuela;
Fakisha F.; fanofbones; Farah Bucu; Faye Suazon; Fiona Seippel; Fleur Kaminska; Florencia Palomeque; Fran Santos; Frances Findley;
Gabi G.; Gabie Cabrera; Gabriela Cubero-Aracena; Gail Edgar; Gassia B.; Gaylelaurenne Manzo; Gemma Woodward; Gila R.; Glenna F.; Gloria Corea; Gloria Keng; Gwen Farley;
Haley D.; Haley M.; Haley Michelle S.; Hannah (aka GoldenTwilight); Hannah Blasz; Hannah Connors; Hannah Loukaja; Hannah M.; Hannah Shelton; Hannah V. (aka ilovebooks); Hannah v. N.; Haylee Cubis; Haylee M.; Hayley McC. (aka hayley_isabel); Hayley P.; Hayley Voland; Hazeleen A. (aka Dazzled); Heather Driver; Heather Kreker; Heather Machel; Heather Mystique; Heather S.; Heather Young; Hege Haukaas; Heidi R.; Helen Smith; Holly Johnson; Holly N.; Holly W.; Hope Hooker; Hope;
Ika; Imelda B.; Ingrid Saycon Benigay; Io Swift Wolf; Ismini Papanikolaou; Isobel L.; Ivy Vega; Izabel C.-W.;
Jackie S.; Jackie Scully; Jackson Tucker Francis; Jacqueline N.; Jacquie Smith; Jade P.; Jaleesa L.; Jamie and Jodi; Jamie D.; Jamie D.; Jamie Lemons; Jamie Moran; Jamira Quispe-Perez; Jane; Jane Kelly; Jane Provinsal; Janet; Janice Choi; Janine Louie; Jannia Berndtsson; Jasmine V.; Jayme T.; Jean B.; Jeanette Travis; Jeanette W.; Jen Van Sant; Jenee L.; Jenn C.; Jenn L.; Jenn Sunday; Jenn; Jenn Petrosky; Jenni Estraca; Jenni Preston; Jennifer (aka GenevieveCullen); Jennifer A. (aka Prairiesentry); Jennifer H.; Jennifer Hunt; Jennifer K. (aka jking); Jennifer Kuntz; Jennifer Lind; Jennifer Lloyd; Jennifer Martinez; Jennifer O.; Jennifer Spurlock; Jennifer Ström; Jennifer Wathen; Jennifer Wege; Jennifer Wilson; Jenny Gray; Jenny Hampton; Jera-Hime ; Jess Byrd; Jessi Dennis; Jessica "crazydaisy"; Jessica A.; Jessica Ball; Jessica Banning; Jessica Blakey; Jessica Chan; Jessica Collado; Jessica Crowley; Jessica Culverwell; Jessica Ellison; Jessica F.; Jessica Fritsch; Jessica Fung; Jessica Gordon; Jessica Ham; Jessica L.; Jessica Milne; Jessica Noel; Jessica R. (aka TheRealChemicalGirl); Jessica Rodriguez; Jessica T.; Jessie Massey; Jessie S.; Jessii Escamilla; Jesslei S.; jewlie504; Jill A.; Jill Bukoksy; Jill; Jillian McDonald; Jillian Nall; Jillian T.; Joanna Beaumont; Joanna Lau; Joanna Rasmussen; Joanna Wingco; Joanne Villareal; Jodie Coulson; Johanna (aka Jo); Johanna Wong; Johna Nelson; JoJo Ortiz; Joleta; Jordan Eberhardt; Jordan Kraynik; Jordan S.; Jossahany; Joyce Chiu; Juan Carlos P.; Judith Korga; Judy T.; Julia Borghi; Julia L. (aka Feli); Julia Nikolaus; Juliane Ritter; Julie Hutchings; Julie M.; Julie Massucci; Julie Sabala; Julie Thorn; Juliet Stewart; June Yeow; Justine H.;
Kacie Stanelle; Kaidia P.(aka twerd13); Kaitlin Gilliam; Kaitlyn C.; Kaitlyn, Kathleen and Shannon H.; Kalilah Anderson; Kaly Durland; Kamalie Morales; Kami F.; Karen Chan; Karen Macklin (aka ckmack1); Karen Tapia; Karen Zhou; Kari W. (aka lillemy); Karissa (aka werewolfe); Karissa C.; Karolina Kieszkowska; Kat J.; Kat Kim; Kata Sebök; Katarzyna Kozlowska; Kate Ball; Kate F.; Kate H.; Kate; Katerina; Katharina Kusserow; Katharine Green; Kathi Schröder; Kathi; Kathie McKeown; Kathleen P.; Kathryn Howard; Kathryn Jackson; Kathy Chmiel; Kathy Lind; Kathy Sandstrum; Katia B.; Katie G.; Katie Kiernan; Katie L.; Katie Roberts; Katie S.; Katrin K. (aka Succiu); Katrina Alix; Katrina Santos; Katy Cosgrove; Kaycee H.; Kaydee; KayKay; Kayla Long; Keenan Roberson; Keith P.; Kelley Relyea; Kelli Patillo; Kelly Blissett; Kelly Cusick; Kelly G.; Kelly M.; Kelly Molski; Kelly Schaefer; Kelly Smail; Kelly W.; Kelly Zhu; Kelly-Ann S.; Kelsey Buchanan; Kelsey Musick; Kelsey Rogers; Kelsi Bruno; Kendra Burry; Kerry Hess; Keturah C.; Kevin and Lori; Kevin Corduant; Kevin Tsue; Kia Corbett; Kim Miller; Kim Robinson; Kim Voellinger; Kimberly H.; Kimberly Jenkins; Kimberly Watson; Kira D.; Kira W. (aka Lysmandor); Kiran S.; Kirsten Brassard; Kirsten Hyer; Kirsten Nelson; Kit-wah Huang; Klaudia Schwebius; Koleen Branzuela; Kristen B.; Kristen Cherney; Kristen Edwards; Kristen S.; Kristi Holaway; Kristin Chapman; Kristin Feliz; Kristin Gran Kielland; Kristin M.; Kristin Petersen; Kristin Sprauer; Kristin Treadway; Kristina D.; Kristyl; Krysie S.; Krystal Joy Santualla; Kylie Phillips; Kylie Robertson; Kyra MacKenzie;
LaBree Shide; Lainey; Lana P.; Lara Connaughton; Larissa Souza; Lashe; Laura Botelho; Laura Crowe; Laura D.; Laura Foster; Laura Ibarra; Laura Jane Walton; Laura L.; Laura Pearson; Laura Pfeiffer; Laura R.; Laureen Niemann; Lauren A.; Lauren A. (aka doden88); Lauren Calleja; Lauren Dion; Lauren Dobson; Lauren Dyer; Lauren E.; Lauren Kass; Lauren Marrero; Lauren Petersen; Laurie Johnson; Layalie K.; Lea H.; Leah V.; Leanne Thomson; Lesley Tackitt; Lexi Gallardo; Lexi; Li SK; Liana Rohlfing-McKenzie; Liann Harris; Lilangelleslie3; Lilia Bonilla; Liliana Borg; Lily Jaquith; Lily Moreno; Lily R.; Linda Hauenschild; Lindsay H.; Lindsay R.; Lindsay Smith; Lindsey Yue; Lisa (aka Mssammydean); Lisa Andrews; Lisa Arteaga; Lisa Delaney; Lisa Kang; Lisa Kanizar; Lisa Powers; LisaCullenAZ; Lisette Johansson; Liz H.; Liz K.; Lizbeth Robles; Lizzie McCready; Lois Thorpe; Long Lost Cullen; Lorabell F.; Loreena; Lorena Gonzalez; Lorna W.; Lorri Newby; Lorrie R.; Lucy Hanson; Lucy Phan; Lucy R.; Lula L.; Lydia Chen; Lydia H.; LyLi; Lyndsey Pellerin; Lynley R.; Lynn Batista;
Maddie H.; Maddy W.; Mafe B.; Magali Burnichon; Maggie Parris; Maggie Slinkman-Gary; Maja Gahr; Malaina Turner; Malina Lim; Mandy McLachlan; Mandy W. (aka Mecki); Mara Wilke; Marcella A.; Marcella Fumei; Mareike Krüger; Mareli Eliza; Margerie Marasigan; Margery Thomas; Maria Elena S.; Maria Kastias; Maria M.; Maria S.; Mariana Moreira; Maribel Villanueva; Marie Howell; Marina K.; Marinna F.; Marissa Wilson; Marla Hyndman; Marsha D.; Marty T.; Mary Alma Valladares; Mary Beth Wagner; Mary Browning and Kelsey Park; Mary Bryant; Mary Holland; Mary Jozebelle M. Frias; Maura Leamy (aka Irish_Vamp); Mayra Molina; Meagan L. (aka Othfanz ); Meagan Petersen; Meagan Wall; Meda Schultheis; Meeshie Q. Pidge; Megan; Megan A. (aka M3L0N.L0V3); Megan A.; Megan Anthony; Megan C.; Megan Cooke; Megan Clark; Megan E. Smith; Megan G.; Megan Glencross; Megan Hattan; Meagan Jones; Megan Q.; Melanie Bassett; Melanie C.; Melanie F.; Melanie French; Melanie K.; Melanie N. (aka smalltowngirl); Melanie Sauter; Melanie Wilson; Mele D.; Melea V.; Melinda Wenner; Melissa E.; Melissa Norris; Melissa R.; Melissa Ward; Meredith C.; Meron D.; Miajane K.; Michaela "Ella"; Michaela Rutter; Michele G.; Michele K.; Michelle Cornwell; Michelle Francis; Michelle L.; Michelle Lavoie; Michelle Park; Michelle Sapp; Michelle Sones; Michelle Sue Vann; Michelle Voss; Michelle Wessling; Michelle Wu; Michelle/Lauren Fitz-Gerald; Mikayla M.; Mike Middleton; Millicent Bustria; Miranda B.; Miriam Funk; Misha W.; Miss Vini; Molly D.; Molly Girardi; Mona Solheim; Monica H.; Monica S.; Monique S.; Morgan and Rosalee; Morgan L.; Morgan Napski; Morgan Petkus; Mrs T.; MrsEdwardCullen0491; Mura O'Neill-Rohe; Mya Rooney;
Nadeesha S. (aka Shobi); Nadine de Asis; Nadine L.; Nakita M., Nancy Moua; Naomi LaTourrette; Naomi Lir; Natalie A.; Natalie Coleman; Natalie Kaiser; Natalie Kretz; Natalie L.; Natalie Trushkov; Natasha Harts; Natasha S.; Nea P. (aka FilDeCuivre); Negra; Nelmarie M.; Nia G. (aka niagriff); Nicola Parry; Nicole and Jaymi; Nicole Angeline S. G. (aka mursh08); Nicole Flores; Nicole Lazar; Nicole Mader; Nicole Sallee; Niki Jones; Nikki Behlen; Nikki Kaiser; Nina Gustafsson; Nina Stotz;
Olga Papalou; Olivia B.; Olivia King; Olmarunner10; Opal Koboi; Orlaith Desmond;
Paige Delaney; Paige R.; Paloma P.; Pam Klinepeter; Pamela C.; Patricia Chen; Patricia Mendoza; Patty Hearst; Patty Ruettgers; Paula McNamer; Paulina A. P. L.; Paulina F.; Penny Kittie; Peta Barnard; Phuong Duong; Pierre Maldonado; Precious M.; Priscilla Piedra A. (aka EJGirl) Priya Elayath;
Rachael R.; Rachael Schulz; Rachel Anderson; Rachel D.; Rachel D.; Rachel K.; Rachel Shearer; Rachel Smith; Rachel Thomas; Rachel Vandbakk; Rachel; Rachelle Maxine; Rachelle P.; Rachelmary Palmer; Rachiee; Rae; RaeAnn L.; Rain Dunaway; Rannie McCants; Rebecca Lay; Rebecca LeCroy; Rebecca Linack; Rebekah R.; Reetta Peltokangas; Reeviza Saipudin; Regine B.; Renee Stump; Rhonda St.Laurent; Rhonda; Ria and Jima; Riema Al-Khatib; Rissa L.; Robin Anderson; Robyn Harney; Rochelle Derlick; Rosa E. (aka akkigrl); Rosie Smith; Roxanne A. Garza; Roxanne K.; Rozie B. (aka i_am_switzerland); Rozliana Azman; Ruby Chavez; Ruth Mendoza; Ryley Fingler;
Sabrina Alber; Sabrina H.; Sabrina M.; Sabrina Weihe; Sabrina; Sacha Nasr; Sally McDonnell; Sam Mackey; Samanta Angara; Samantha (aka corysangel); Samantha B.; Samantha C.; Samantha Polizzi; Samantha Sylim; Samantha W.; Samantha Woods; Samiha Rahman; Sammi M.; Sandhya Kripalani; Sandi Waller; Sandra Andrade; Sandra C.; Sandy Cervantes; Sara A.; Sara Amaro; Sara Berg; Sara Cuxeva; Sara Esler; Sara Evans; Sara Fuhrman; Sara Groenheide; Sara K.; Sara Krimou; Sara O.; Sara P.; Sarah Backwinkel; Sarah Claypoole; Sarah Eden; Sarah Frias; Sarah Hamm; Sarah Harrison; Sarah Hawkins; Sarah Jones; Sarah Leung; Sarah P.; Sarah Richards; Sarah S.; Sarah Willmott; Sarah; Saskia Rößler; SEC89; Selena N.; Shaili Parekh; Shanley Roach; Shannon C.; Shannon Cates; Shannon Condie; Shannon Rose; Shantelle Felshaw; Shari D.; Sharice M.; Sharilyn Maurer; Sharon F.; Shauna C.; Shea; Shelby Gage; Shelby Kisamore; Shelby Lennon; Sheldon Hill; Shelley Boozer; Shelley Cherkowski; Shelley Wykle; Shelly A. (aka Shelbel); Sherhonda (aka grieversangel07); Sherie E.; Sherry Baugh; Shevonne; Shweta Garg; Sigga Bogga; Simone Marketto; Sinah Saussen; Siobhan B.; Siona G. (aka ronW~and~jacobB); Sofia Rodriguez; Sohpie E.; Sonnya C.; Sophie D.; Sora A.; Stacey C.; Stacey Jenks; Stacey S.; Stanci Hensarling; Stanislava Mitkova; Stefanie Brogniet; Stefanie Flores; Stefanie Hanley; Stefanie M.; Stefanie Martin; Stefanie Weber; Steff D.; Stella Aquino; Steph A.; Steph Bonnell; Steph Hanes; Steph J.; Steph Pogue; Stephanie (aka pearlgirl); Stephanie A.; Stephanie Beresh; Stephanie Burns; Stephanie Färber; Stephanie G.; Stephanie H.; Stephanie Hall; Stephanie M.; Stephanie Nathy Catindig; Stephanie Pesina; Stephanie Reynolds; Stephanie Watson; Stephanie Westhoff; Stephanie Wiryaman; Stephanie Wolvert; Stephie Kwan; Stephiegoesboom; Stevie; Sue Belo; Sue M.; SueEllen A.; Suliyani Indah; Susan Bernal; Susan Forcier; Susan Maco; Susan Meier; Susan Pett; Susann Dietzschold; Suzanne Rauch; Suzanne Tonner; Suzy B. (aka TwiSuz); Sydney A.; Sydney B.; Sydney Johns; Sydney Padula; Sydney;
Tabbie; TaBu; Talia Robinson & Kiara Follent; Tam Landry; Tamara; Tami D.; Tammy L.; Tania St-Denis; Tanja Fortmann; Tanja Weinberger; Tara M.; Tara Schunk; Tasmin H.; Taylor D.; Taylor Hacker; Taylor Koon; Teresa Stansberry; Terri Schumacher; Tessa Brown; Thatyene and Melissa Ramos; Theresa Reidford; Thy Huynh; Tiffany Drew; Tina Schmidt; Tina T.; Tinay; Toni S.; Tori E.; Tori L.; Tori O'Connell.; Tracey Golden; Tracey Smith; Tricia Pennington; Twilightkid12;
Valerie Ann Hernandez; Valerie Garcia; Vanessa D.; Vanessa Sakura Yixuan; Vera Tarbaeva; Veronica Pinho; Vickie Smith; Vicky Zoccali; Victoria (Tora) S.; Victoria H.; Victoria Klucher; Victoria L.; Vince and Melissa Winner;
Wendy Borrison; Wendy Gonzales; Wu-hoo sisters;
Yesenis Garcia; Yrneh C. (aka LordVaughn); Yuebin Zhu;
Zayna; Zedi H.; Zong Bin; Zuradia Worrell.